Home Of The Commodity Bull Market Trading Plan
We love the Commodity Markets, we love Trading, and we love Markets that Trend.
---
CommodityTrends.com brings all our passions together through our proprietary trend following algorithm, the Commodity Bull Market Trading Plan.
I'm Jim Prince, a 30-year market veteran and teacher of trading strategies to tens of thousands of aspiring traders over the years. Back in May of last year a trading colleague and I were discussing the state of the economy. It was clear the prices of everyday goods were continuing to climb, and we could see the effect it was having on the markets we followed. We knew this was early-stage inflation, and it was only going to get worse. But as traders we realized there was a way to take advantage of this unique opportunity.

So I came up with a trading plan. I tested it, I tweaked it, and when I was confident it was ready, I traded it! And now the results are in - results so good, I knew I had to share it with you.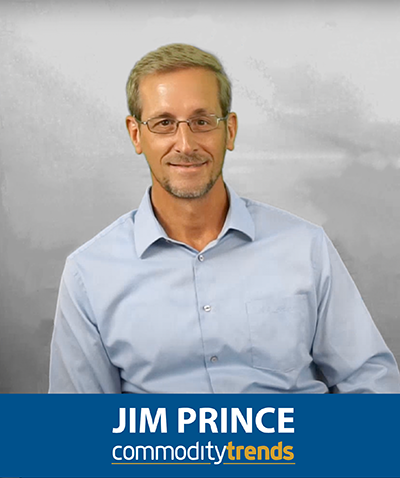 Please read below for further details on how you can take advantage of it as well.
What is the Commodity Bull Market Trading Plan?
The Commodity Bull Market Trading Plan is a Red light Green light trading system. It is based on a proprietary mathematical formula that generates trading signals for the commodity markets I am following. An automated system such as this removes human emotions from trading, which in turn can remove some of pressures associated with trading, as there is no second guessing the system. With my Commodity Bull Market Trading Plan you are always in the market with either a long or short position. As Gordon Gekko from Wall Street famously said, "Money Never Sleeps." Well, neither does my trading plan. It was created with today's markets in mind, so I never miss a move.
Towards the end of each trading day, I review my markets, check my system, and create my simple report. Most days there will be no changes. However, should I get a signal change, I adapt as needed. Green light means I buy, and Red light means I sell.
I chose markets that are easily accessible, with high trading volume, and that are offered through most major brokerage firms. The plan was designed around diversity of asset class, giving us flexibility, so we are not dependent upon one asset class. We trade 5 different market sectors: Stock Index, Bond, Metal, Energy, and Grain. These markets were specifically chosen to provide balance to the portfolio, as we never know in advance how the market is going to move. We are looking for trends. It does not matter if the market goes up or down, just that it trends. And given today's geopolitical climate and surging inflation I feel confident in saying that things will only get worse before they get better again, which likely means we will continue to see more of these monster trends we have seen over the past year.
With my plan I do all the hard work for you. I will tell you when to trade, what to trade, and how many contracts of each market to trade. You will not miss a trade, and I will share with you my results.
I will send you an alert whenever there is a change in position. When trading commodities, we trade specific months, and as contracts approach expiration, we need to roll from one month into the next. I will help you with these details, so you never miss a beat.
I will send you special alerts when there is any change in position. This is not day trading, where you have to be at your computer, or checking your phone all day.
Technically, you only need to check once a day ... at the end of the trading day. Beyond that, my system will always alert me if there's a change that needs to be made – and I will then alert you. I will tell you exactly which market is involved, whether the position is long or short, and how many contracts I am trading. The rest is up to you.
When I created the trading plan my goal was to make this affordable. I wanted to design a system the average person could use that removed some of the risk and emotion from trading, yet had the potential to capture substantial profits from the monster moves I was seeing. My plan is designed around an account size of $10,000, and that was what I started with before I doubled my account. But with the recent volatility in the markets, you may need to start with a slightly higher balance. The plan involves trading small-sized contracts to try to minimize the daily risk.
The plan is designed around being in the market at all times and taking each signal that the system gives. However, there are ways for you to test the system without risking any money. Within the Commodity Trends website we have tools you can use to follow along and create your own portfolio as if you were trading with real money. We encourage you to test the system first and gain confidence before jumping into the markets with your hard-earned money. And while the Commodity Bull Market Trading Plan was designed with a starting account size of $10,000, there are traders that may trade these same signals, but with lesser contract sizing, and hence start with a smaller account size.
These are choices you need to make based on your situation. I will tell you what I am doing based on the rules of the Commodity Bull Market Trading Plan. You need to decide what is right for you.
No! This is not day trading where you must be at your computer when the market opens or closes. In fact the holding time on many of the positions is about a month, sometimes longer, sometimes shorter.
If you choose to join me, have reasonable expectations. You need to have the capital to withstand the ups and downs of the markets — as we will have good months and bad months together. You need to be able to pace yourself and walk away from the market without worrying. Please note: If you're deciding between taking me up on my offer and paying your bills -- this plan is not for you.
Absolutely! You see, if the market is trending either up or down, and if the trend accelerates because of volatility — that is just more fuel for my trading plan. There were many days when I have made 10% or more a day. Granted, there were days when I lost 10% a day, but it is the volatility that makes the plan work.
I believe the period of easy money and high stock prices is over. I believe inflation is real, and the best way to protect yourself is to look for alternative income streams such as commodities. And the best thing about trading commodities is you can go long or short. So you can make money when the market goes down as well as up.
I know, it hurts that we're all paying a small fortune for everything, but Newton's 3rd law says, "For every action there's an equal and opposite reaction." We're seeing an example of that right now in the markets. As hard as it is to feel the daily pain of high prices from the raging inflation that is dominating the top of the news cycle, for a certain type of trader, it's creating a gold mine of new profit opportunities!
My plan was designed to be affordable; you can try it for 30 days for just $1. I will provide you everything that I give to my full members. You will get all my alerts, access to my portfolio, access to tools so you can test this yourself, as well as daily videos and my weekly newsletters to keep you abreast of what is happening in today's markets. And after those first 30 days, it's only $79/month. This isn't a hedge fund; it is designed to be affordable. And my hope is we can have fun doing it. I will give you the same signals I am using, and best of all, any profits you make are yours to keep.
Have reasonable expectations. My stated goal at the start was: "With this trading plan, could I, or anyone who followed my rules, double their account within a year?". The answer was most definitely Yes.
Trading my plan I was able to double my account within the first 2-months, and I let one of my team members trade along with me and when he also started hitting home runs, well at that point I knew I had to make this service so I could share with you.
I know if you feel confident, and stick with the plan long enough (1 year) that it has the potential to bring great results. If you're looking to get rich quick - this plan is not for you. Given the ups and down of the market, where we will have good months along with bad, I still have not changed my stated goal when someone asks me, which is to double my account within a year.
What else do I get? Is this just an alert service?
This is not just an alert service. Lucky for you, I love to watch the markets. It's what I do all day. And I love to trade and share insights with my followers. So most trading days I will create a video to share with all my members. It not only covers the markets featured within my trading plan; it also covers other commodity markets that I find interesting and think you should know about. Plus, I love to put on webinars where I can teach, share, explain, and interact with you. There is nothing I love more than a good back and forth conversation on the markets, trading, or just the state of things in general. So I'll hold regular webinars, which will be your chance to ask me any questions about my trading plan!
My Commodity Bull Market Trading Plan Program Includes:
My trading plan... based on 5 key markets
Every Buy or Sell Signal for all 5 markets
Regular expert commentary on the commodity markets
Course Counselor help to get you going with your account and show you how to test our methods without risking any money
Unlimited Live Support... I never want you to guess, or stop trading because you don't know what to do
Introductory Video to help you get started
Access to my Trading History and Current Portfolio, so you can see exactly how I'm doing
Access to my website so you can use the same price quotes and charts I use
Daily Commentary Videos: each trading day I will post a 5-10 minute video with market updates and analysis of the trends
Specific Trade Alerts (sent via e-mail and text) so you never miss anything important
Live Webinars Every Other Month where you can watch, learn, and ask questions
Weekly Market Recap to review our current positions and what's happening in the market this week
Monthly Newsletter to help you stay up to date in the world of trading commodities
Do you personally trade this system with real money?
Of course! It's the best system I have ever created. Call my office now at 1-800-853-1172 to start trading with me or click on the link below to start your 30-day trial today.

P.S. Try the service risk free for 30 days for only $1. If you like what you see, do nothing and we will conveniently begin billing your credit card on file the $79 monthly rate. If your situation changes, you can cancel at any time either by calling our Membership hotline at 1-800-853-1172 or by sending an email to our team of seasoned support specialists.
WARNING: FUTURES AND OPTIONS trading involves high risks and YOU can LOSE a lot of money. The risk of loss in trading commodity futures and options contracts can be substantial. There is a high degree of leverage in futures trading because of the small margin requirements. This leverage can work against you as well as for you and can lead to large losses as well as large gains. No representation is being made that any account will or is likely to achieve profits or losses similar to those shown. In the event the account has losses, you may need to deposit additional funds to maintain margin or to initiate new positions as called for by the trading program. This brief statement cannot disclose all the risks and other significant aspects of the commodity markets. You should carefully study commodity trading and consider whether such trading is suitable for you in light of your circumstances and financial resources before you trade. Please know that the above services are not intended to nor shall they provide any commodity trading advice based on or tailored to your particular circumstances or characteristics such as any of your personal financial details, current investments or trading accounts. Past results are not necessarily indicative of Future Results.
Click here
for a capsule performance of actual trading results.